Hi Guys,
So, not long ago, I went on a trip to Seville, Fes, and Marrakech.  Here's the story.
I was an Arabic major in college and speak the language pretty well.  I did my abroad term in Fes, Morocco, a place that I ultimately fell in love with for its culture, history, and the kindness of its people.  Morocco is a particularly awesome place given that it's incredibly exotic yet safe and accessible for Westerners.  As a result, many of my friends have wanted to visit the country, and many have asked me to guide them in exploring the country.  I have a hard time saying no.  My brother, James, had work in Dublin and a few weeks to travel afterward, and asked if I wanted to do a Southern-Spain-and-Morocco trip.  Given that Seville is one of my favorite places on Earth, this one was too good to refuse.  So, I booked a ticket, met him in the Madrid airport, and the adventure began.
Our first day in Seville was spent wandering around the city and enjoying the beautiful sights.  However the real highlight came at our first meal.  Enter Robles Placentines.  Rarely in life do we get to experience food that melts faces; I can count the number of meals on one hand that fit this description (TarTar Lounge in Cannes, Dar Tazi, and only a few others).  So, we sat down, unsuspecting, at Robles Placentines for a late lunch.  First, enter some beautiful sangria.  Then, enter the greatest tapas I've ever tasted.
DISCLAIMER:  Food often looked so delicious that I forgot to photograph it before I'd finished half of it.  Please forgive.
Bacon-wrapped shrimp and pork filet with bacon.  The bacon-wrapped shrimp was a clear favorite.  The other top pick was the lomocito filet with jamon serrano on top.  Absolutely phenomenal.  Here is a link to the google map location in case you're ever in Seville.
We spent the rest of our time in Seville trying other classic Spanish foods– Paella, Zumo (Spanish orange juice), Spanish ham sandwiches, but nothing came close.  So, on our last day, we returned to Robles and it was even better than the first time.  Incredible.
Seville is also a beautiful place to walk around and sight-see.  The Andalusian history and art is so persuasive in the city's personality and architecture.  Here are some photos that explain what I mean.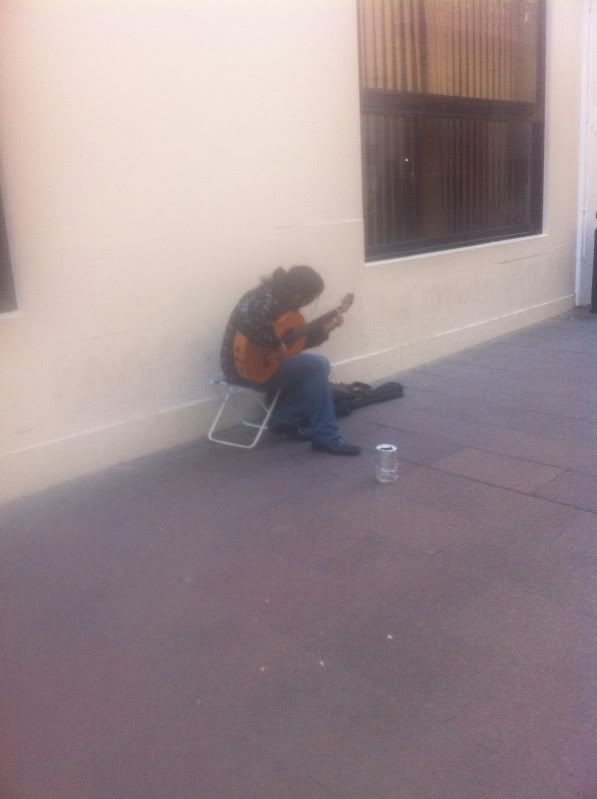 Classical Spanish guitarist on the sidewalk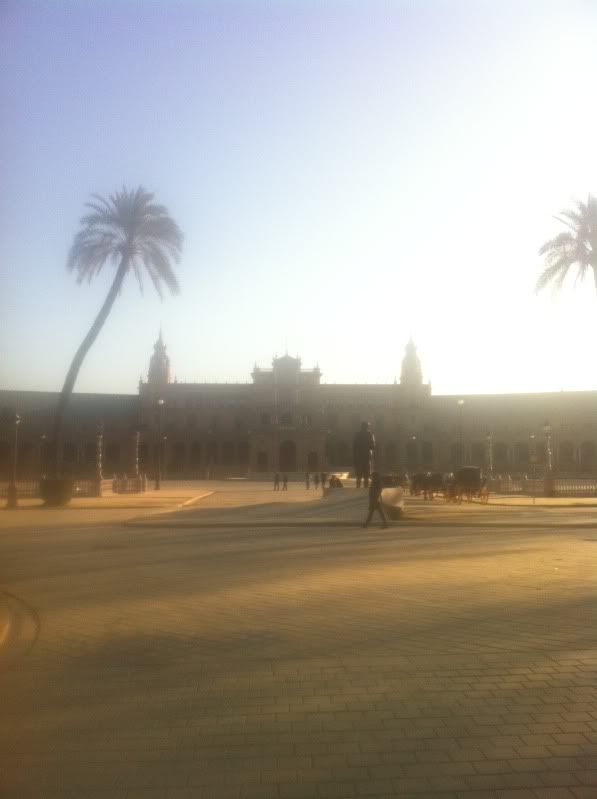 Plaza de Espana, massive and peaceful in the morning
Alcazar, the royal palace in Sevilla
The history of Alcazar is particularly interesting to me as an Arabic major.  First, the word "Alcazar" literally means "The Palace" in Arabic.  Secondly, this region of Spain was conquered and then reconquered and then re-reconquered so many times that the palace facility kept growing larger and switching faiths.  So, along with the pervasive Islamic themes (square rooms, central water features, open air chambers), the place is also littered with Western paintings, tapestries, and other pieces of artwork.
After reaffirming Seville's place as one of my favorite places in the entire world, it was time for James and I to set off toward Morocco.
More on that later!
Andrew